3StepShare is an ingenious new product designed to facilitate the sharing of Outlook folders (calendar, contact, task and email) without the need for Microsoft Exchange Server, server computers, expensive monthly hosting fees, or a computer specialist to install and keep it running. The 3StepShare plugin for sharing Microsoft Outlook calendar, contact, task and email folders does not contain a server application. Instead, it uses Microsoft Outlook's email to send, receive and synchronize data between shared Outlook folders across two or more Microsoft Outlook installations.
Share your Microsoft Outlook calendar with one or more persons
Create shared project calendars, team calendars, room calendars, and other group calendars
Sharing your personal Outlook Contacts folder
Sharing an Outlook Company Contacts folder
Sharing your Personal Outlook Task folders
Shared Sales Inquiry inboxes
Shared Department/Team Resources inboxes
Set up in just three steps: Install, Invite and Share
No need for Exchange, servers, or montly hosting
Sharing security to give each user unique edit and/or delete access
And much more...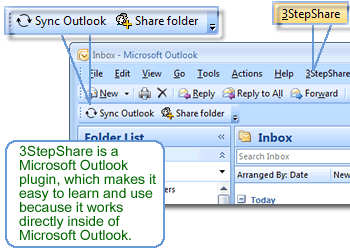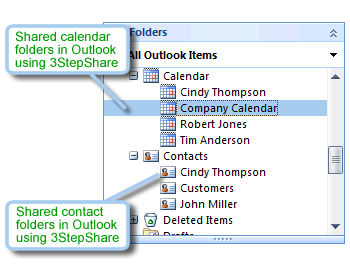 For more information about 3StepShare, or to download a free 14-day trial version of 3StepShare, visit www.3StepShare.com.